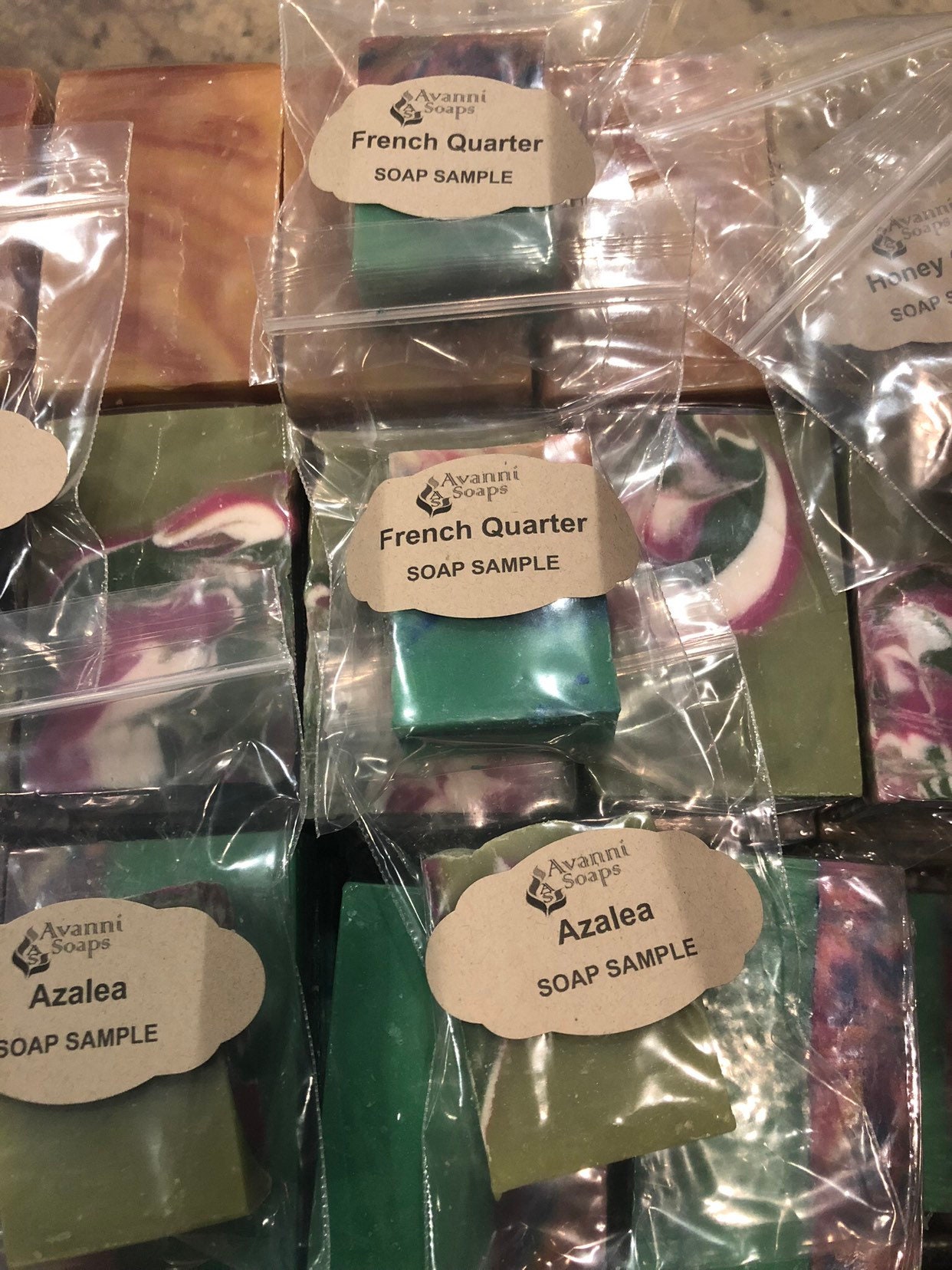 MInimum of 6 - 1 Oz Soap Samples
$6.00
Details
Get a random selection of soap samples that total 15 Oz. You can send me a note or make selections to request particular soaps that I'll gladly accommodate if in stock.
Smells really good and cleans well.
Omg these soaps were awesome!!! Love them!! Highly reccomended!
2nd time ordering within 3 weeks. Want to use these in gift bags and the sizes are perfect. Also a neat variety. Individually wrapped which I really appreciate so the fragrances don't blend together. She also labels them so if I do want to order a bigger bar, I know the name. Really enjoyed this sample soap order!
Very nice size sample and well worth getting 5.00 dollars. I really like that they are individually shrink wrapped, rather than all put together where you cannot distinguish the smells. They were individually marked with the name of the soap which is also nice for future orders. I may have to order these again real soon and give as gifts! Thank you for a quality product!
Frequently Asked Questions
Custom and personalized orders
Yes. If the order is for soap favors, Please contact me at least 6 weeks in advance of the date you need the order. Cold processed soap has to cure for at least 4 weeks.
Care instructions
Please keep all products clean and dry as I don't use preservatives in them. After using a soap bar, make sure it's placed where water can drain allowing the soap to dry for a longer lasting bar.

Body butters and elbow grease are formulated to maintain solidity; however, extreme heat can still melt them. If ordering in the summer please be available to receive the package on delivery date.
Wholesale availability
Yes. Contact me for more details.
Sizing details
For soap bars, sizing and weight are approximate as soap is hand cut. Minimum weight is listed; however, it is possible for a bar to fall slightly below listed weight as it cures.

Also, I began making 3 Oz soaps, then moved to 4 Oz, and now 6 Oz. Prices vary by size. Though some labels may reflect a smaller size, the price reflects the actual size. 6 Oz bars are $6.50.
Gift wrapping and packaging
All packages are packed as gifts. Please let me know if I should pack without receipt.
Do you accept returns, exchanges, or issue refunds?
No. All sales are final. Because of the nature of the product, I do not accept returns. Please check your order before checkout to make sure it is what you want. If you are not happy with the product, please contact me. Your opinion matters.